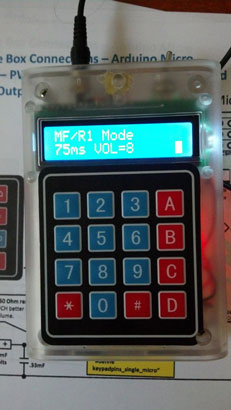 Remind Me Again What a Blue Box Is?
A blue box generates the tones that controlled the old long-distance telephone network. Typically blue boxes are handheld electronic devices with buttons or a dialpad like a Touch-Tone phone, but they can also be implemented in software on a computer. Blue boxes typically have an external speaker that emits the tones, and it gets held up to the moutpiece of a telephone to make a call with the blue box. See the Wikipedia article for more details.
If you're going to play with Project MF, you'll need a blue box.
Ok, So How Do I Get One?
One option is to download a software blue box for Windows. (You will also have to install Microsoft's.net framework.) This program will let you generate blue box tones through your PC's sound card and speakers.
But we think a far cooler option is to build your own. It's a pretty simple project, especially if you know anything about electronics. We already have a design for a simple yet capable blue box called the Project MF Blue Box.
This is an Arduino-based "Blue Box". It produces the "traditional" Blue Box 2600Hz tone and MF (multi-frequency) tones, but does much more! It also produces 12 tone signalling systems used by phone phreaks to hack other more exotic system in the US and overseas, including early pre-cellular mobile telephone systems from the 50s, 60s, and 70s.
The box has 12 non-volatile tone sequence storage memories that can store and play back up to 32 tones each. Each memory saves the tone mode as well. All operating parameters, such as tone duration, volume level, backlight status, reminder beep status, and current tone mode are saved to non-volatile EEPROM memory automatically and are restored when the box is powered up. EEPROM errors are automatically detected and corrected when the box is powered on.
An optional LCD provides full information of the operating status of the box and enhances the appearance and user-friendliness of the unit.
This box features sine-wave tone generation using PWM wave-table lookup techniques. It sounds much better than generating the tones using the two-pin square wave output techniques utilized by the standard Arduino "Tone" library.
I designed this new blue box, as I was out of the PCB boards for my older PIC-based blue box design and was looking for a way for others to easily construct a blue box for use with the ProjectMF system, using inexpensive and commonly available parts. This design is easily the most full-featured and technically sophisticated blue box design available. I am a telecommunications and software engineer and took great pains to be sure all of the tone modes are accurately represented. The code has been thoroughly debugged and well-tested.
The following modes are supported. Note that ALL of these modes are obsolete (well, not DTMF!) and no longer work on "real" public telephone systems, except for private systems (like ProjectMF) set up for historical purposes. They are included to preserve the sounds of these old tone signalling systems:
MF (R1) - The 2600Hz/Multi-frequencysystem that ran Ma Bell's long distance network back in the day
DTMF (Touch-Tone, Autovon) - Used on almost every land line phone. A-B-C-D keys used to set call priority on the old Autovon military phone system
CCITT #5 (C5, SS5) - Same MF tones as R1 (with a few additional tone pairs for special routing), but uses a different tone sequence for international trunk clear/seize
CCITT #4 (C4, SS4) - Unusual 4-bits/digit tone encoding. Used in the UK and other European countries
2600 Dial Pulse - Same method used by Joybubbles (Joe Engressia), Captain Crunch (John Draper), and Bill from New York (Bill Acker) to whistle free calls
Pay Phone Modes - Simulates both US and Canadian nickel/dime/quarter payphone coin drop tones (Red Box). Also simulates US pay phone remote operator control tones (Green Box) and 2600Hz prefix control flash
R2 (MFC) - Unique forward multi-frequency tone pairs, 2280Hz clear/seize tone, as used in the UK. Replaced the older AC1/AC9 UK dial pulse systems
AC1- Old UK tone dial pulse trunk signalling, as used by very early UK telephone "enthusiasts"
AC9 - Newer UK dial pulse trunk signalling, as used by early UK telephone "enthusiasts"
MTS (Mobile Telephone Service) - Pre-cellular, pre-IMTS mobile phone service tone signalling and dialing
IMTS ANI (Improved Mobile Telephone Service ANI ) - Newer pre-cellular mobile authentication spoofing
IMTS Digit Dialing - Improved Mobile Telephone Service (pre-cellular) digit dialing




Overview of the Project MF Blue Box

The Project MF Blue Box consists of:

An Arduino"Micro", "Micro Pro" or any 32u4-based Arduino
A battery clip and 9 volt battery
A 4x4 matrix keypad
A handful of resistors and capacitors
An LED
An optional 16x2 parallel interface character LCD display and variable resistor
An external speaker or telephone earpiece




The design goals were that it be small, low-power, easy to assemble, have minimum parts count, and not use any esoteric or hard-to-find parts,

Assembly Instructions and Tips

We suggest you download a complete copy of the most up-to-date code, assembly instructions and schematics.

A writeup is also available on "Instructables" which you may find helpful.

The recommended speaker for use with the device is a 150 ohm earpiece from an old "500" type telephone handset. These are the standard handsets used by Western Electric, ITT and other phone manufacturers for decades. See the parts list for sources. Just unscrew the earpiece from an old phone, loosen the two screws, and remove the earpiece. BE SURE TO CLIP OUT THE VARISTOR (A SMALL COMPONENT SOLDERED BETWEEN THE SCREW CONTACTS) OR YOUR TONES WILL BE DISTORTED AND THE BOX WILL NOT WORK RELIABLY!

The box may work with other impedance speakers/earphone elements, with varying volume and hiss. Lower impedances will reduce the effectiveness of the PWM low-pass filter in the circuit, increasing hiss. Speakers vary widely in their efficiency (volume for a given power input), so you may need to experiment. The output power is low to keep the circuit simple.

The box may be connected to an external amplifier for volume control, or to a computer sound card input.

Using the Project MF Blue Box

The Project MF Blue Box is a sophisticated little device! Here are some video tutorials from YouTube.

---

---